Price Save $2.40 from $28.99 to $26.59
Bianchi 7928 Flat Glove Pouch - Basket Black, Hidden 22962 on sale and available from our online store. OpticsPlanet, Inc is an Authorized US Distributor for Bianchi Ammunition Pouches.
Note: The picture shown might differ from the actual product by color or finish
Fits for Biahcni Model 7928
Fits
Finish / Color
Hidden

Part No.

2 pair latex gloves
Plain Black
22961
2 pair latex gloves
Basket Black
22962
2 pair latex gloves
Hi-Gloss
22963
Bianchi AccuMold Elite Duty Accessories
Bianchi's done it again! Using Bianchi patented AccuMold technology, we've developed a new line of synthetic duty gear that leaves the competition in the dust! AccuMold® Elite™ revolutionizes the concept of duty gear, crossing the boundaries between leather and nylon holsters and accessories. Even the experts are fooled, not knowing that what they are looking at is not premium leather! AccuMold Elite- it's nothing short of spectacular! Lightweight - Up to 50% lighter than leather in most applications. More affordable than leather. Improved comfort translates into better officer performance in the field. Same beautiful look as leather- the crisp, professional appearance of premium leather without the weight, maintenance and cost. Abrasion-resistant - Exhibits a high level of resistance to the daily knocks, scuffs and abrasions of duty use. Less work to maintain that "inspection day" look! Easily cleaned with only mild soap and water . Bio-Safety - Washing with disinfectant soap or bleach solution will handle contamination problems . . . Great for correctional institution duty. Makes the transition from conventional duty leather to a synthetic duty gear an easy decision!

We offer complete line of Bianchi Ammunition Pouches. For our complete selection of products by Bianchi on sale please visit our Bianchi page. For more Glove Pouches please visit our Glove Pouches store section.
---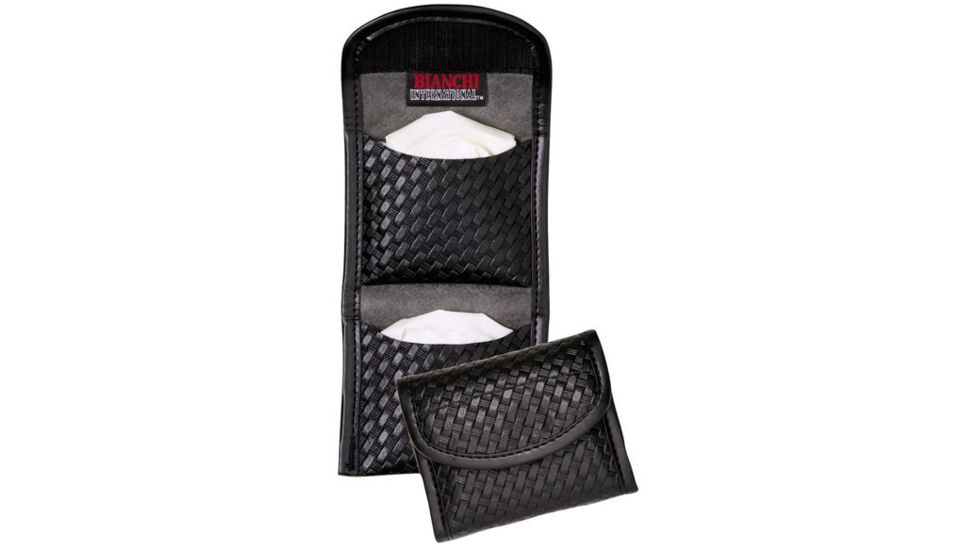 Bianchi 7928 Flat Glove Pouch - Basket Black, Hidden 22962
RATING
94 /100
Design

Excellent

Performance

Excellent

Value for money

Excellent

Feature

Excellent
Specifications for Bianchi 7928 Flat Glove Pouch - Basket Black, Hidden 22962:
Category: 
AccuMold Elite Duty Accessories
Model: 
Flat Glove Pouch
Type: 
Hidden
Finish/Color: 
Basket Black
Fits: 
2 pair latex gloves
Features of Bianchi 7928 Flat Glove Pouch - Basket Black, Hidden 22962:
Holds two pair latex gloves in separate pockets
Slim and compact on the duty belt
Hook and loop closure to help protect gloves
Abrasion resistant Duraskin material
Dual web belt loop design accommodates both 2" (50mm) and 2.25" (58mm) belts
---
---