UK International Underwater Kinetics 2AAA Xenon Penlight S - now on sale and available from OpticsPlanet online store. OpticsPlanet is an Authorized Internet Dealer for UK International Underwater Kinetics Dive, Industrial, Fire & Safety Lights. UK 2AAA Xenon Penlight S - Wet or dry, this penlight puts out more illumination that lights 3 times its size.
Out of the shirt pocket or tool box, the 2AAA Penlight S is ideal for close-up inspections, night-time repairs or navigating in the dark. Its non-conductive high impact case allows use around circuitry or electricity. UL Class I Div 2 rated for use in hazardous locations.
Specifications for UK 2AAA Xenon Penlight S:
UK 2AAA Xenon Penlight S
BRIGHTNESS:
12 Lumens
LAMP:
1.12 watt high brightness xenon filled lamp
BURN TIME:
1.8 (Alkaline) Hours; 2.8 (Lithium) Hours
BATTERIES:
2 AAA Alkaline/LR03; 2 AAA Lithium/L92
SIZE:
5.1 L x 0.75 W x 0.75 D inches
WEIGHT:
1.5 oz (Alkaline); 1.2 oz (Lithium)
CERTIFICATIONS:
UL Listed (U.S. and Canada) CL I, DIV 2 GP A, B, C, D; CL II DIV 2 GP G, USE ONLY WITH 09801 OR 09802 LAMP TEMP CODE T3A FOR 09801 LAMP
Features of UK 2AAA Xenon Penlight S:
Prefocused lamp for instant narrow beam
Rubber covered click ON and OFF or momentary switch
Electrically non-conductive case
Waterproof O-ring seal
Molded pocket clip
Tough LEXAN™ plastic construction
Optional high brightness red LED (.075 watts), for protecting night vision, provides 24 hour burn time 
Waterproof to 1 meter
NOTE: Light is not certified for use with Lithium batteries in hazardous locations. Use only listed Alkaline cells.
Full line of UK is on sale in our online store. For our complete selection of UK lights please visit our UK Dive, Industrial, Fire & Safety Lights section.
---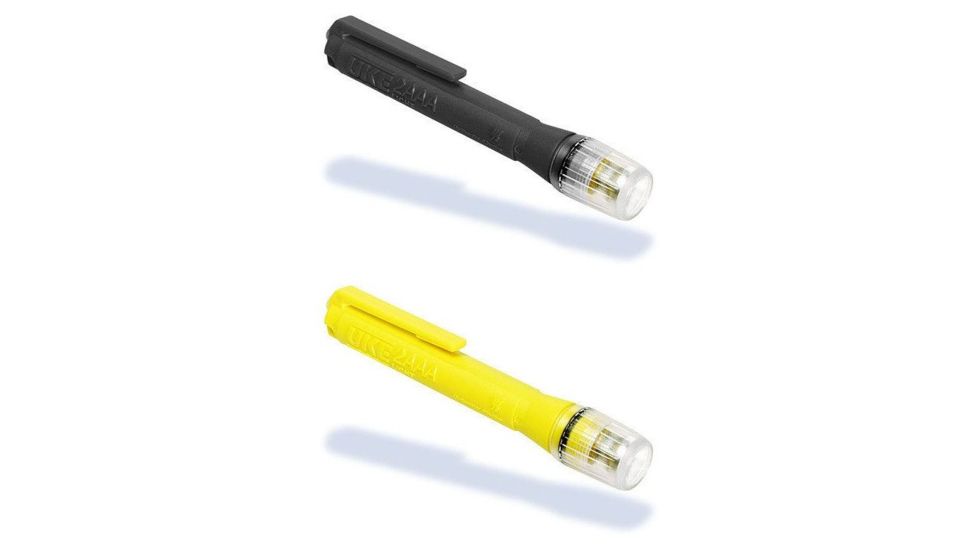 UK International Underwater Kinetics 2AAA Xenon Penlight S
RATING
94 /100
Design

Excellent

Performance

Excellent

Value for money

Excellent

Feature

Excellent