InForce Color One Light Flashlight has five high-performance, multi-intensity and programmable LEDs. InForce by INFORCE is the lighting choice for any situation. Whether employed on land, at sea, or in the air, no flashlight is more versatile or better suited for modern warfare than the INFORCE Color flashlight from Inforce flashlight. In Force Flashlight works with 2 123 Lithium Batteries.
With among the virtually limitless missions suitable for the In Force Color flashlight by INFORCE are a field light, close quarters battle, high-risk search, prisoner control, ground crew operations, fluid detection, target designation, and explosive detection and identification.
The INFORCE Color lighting system renders all tactical options available to the professional soldier when preparing any mission.
Color Uses for Inforce Color One Light Flashlight:
Red: Night Vision
Blue: Fluid Detection
Green: Map Reading/Safety
White: Floodlight or IR Illumination
Modes of Operation for Inforce Color FlashLight:
Constant White: High, Medium or Low
Momentary White: High, Medium or Low
Program/Select Color: Cycles through 4 secondary LED color light options - Red, Green, Blue and White/IR
Constant Color: High, Medium or Low
Momentary Color: High, Medium or Low
We also offer another flashlight from Series Inforce, such as Inforce White 150 Lumen LED Flashlight and Inforce White, Color and IR LED Flashlight.
In Force Primary LED White and secondary LEDs color Flashlightavailable models:
INF-B-W-RGBW: In force Black Flashlight, with Color LEDs
INF-S-W-RGBW: InForce Flash light Sand, with LEDs Color
---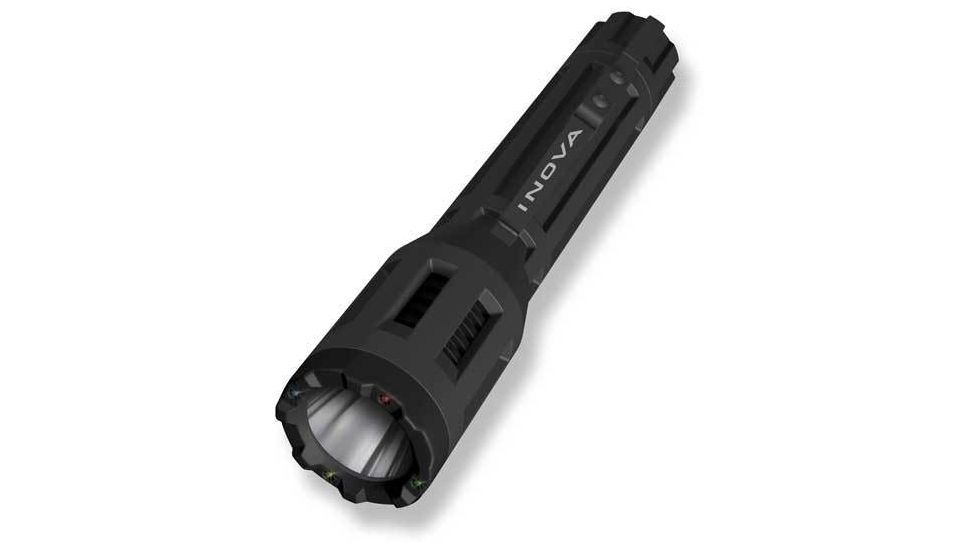 InForce Primary LED White and Color Flashlight
RATING
93.75 /100
Design

Excellent

Performance

Excellent

Value for money

Excellent

Feature

Excellent
Features of In Force One Light Flashlight Color:
BUILT-IN LANYARD HOLE designed to accept standard 550 parachute cord.
LITHIUM POWERED for maximum performance and longer battery life.
SOLID STATE TECHNOLOGY incorporating high-performance LEDs and circuitry for unsurpassed performance under all conditions.
PROPRIETARY POWER REGULATION Internal power regulator provides uniform light output and maximizes battery life and run time.
PATENTED HEAT
RELEASING VENTS keep the flashlight cool and comfortable to hold.
POWERFUL LEDs Long-lasting, shock-resistant, unbreakable LEDs for strong and reliable lighting.
BRILLIANT BEAM Custom-tuned optics for a powerful hot spot and balanced peripheral lighting.
CARBON FIBER BODY Ultralight and strong carbon fiber composite body saves weight and withstands rigors of combat.
ONE-HAND OPERATION Simple, reliable, intuitive tailcap switch for single-handed operation of programs and modes.
STAINLESS-STEEL
BELT CLIP Replaceable clip attaches securely to MOLLE vest.
4.5 oz. WEIGHT WITH BATTERIES Designed to help alleviate the burden troops carry in the field.
WATERPROOF TO 66 FEET Premium grade O-rings seal out water down to 66 feet as well as keep out dust and dirt.
SCALLOPED HEAD Designed to let light "spill out" to indicate if flashlight is on while in upright position.
MAINTAINANCE FREE Simply rinse with water and dry with a soft cloth for optimal working condition.
Replace batteries as needed.
---
---