The innovative Ravin Predator R9 Frictionless Crossbow has a sleek design and narrow profile that makes it look almost rifle-like. Ravin broke the mold for traditional Crossbows when they developed their proprietary Helicoil Technology. With features like frictionless flight, a trigger system that always stays centered on the string, and a built-in cocking system that requires only 10 pounds of force to draw, the Ravin Predator R9 Bow is groundbreaking. A crossbow that's significantly narrower than any other on the market, the Ravin Predator R9 Trac-Trigger Crossbow is a beautiful combination of speed, power and accuracy.
---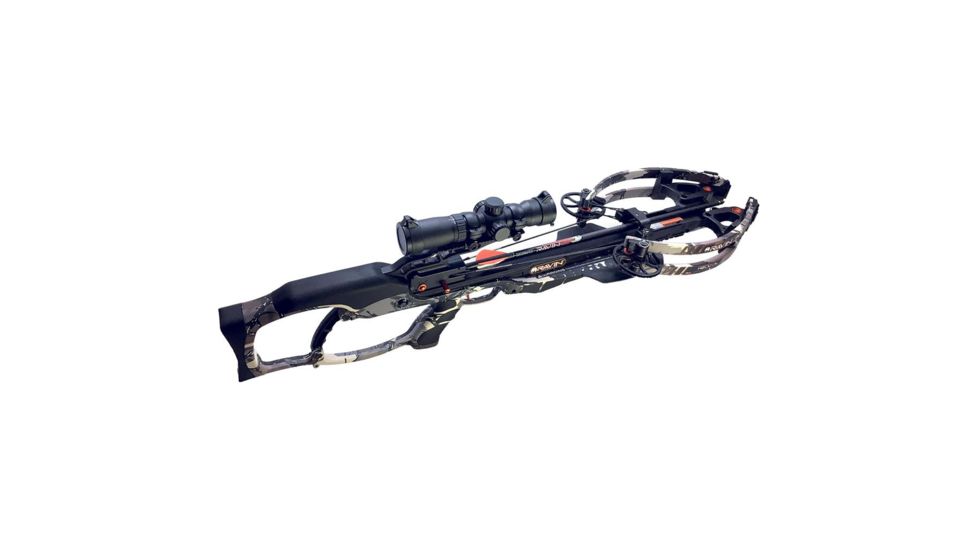 Ravin Predator R9 Crossbow
RATING
92 /100
Design

Excellent

Performance

Excellent

Value for money

Excellent

Feature

Excellent
Features of Ravin Predator R9 Frictionless Crossbow w/ Helicoil Technology R110:
Frictionless flight system allows the arrow and string to free float above the rail, eliminating friction for consistent accuracy and increased string and cable life.
Trac-Trigger firing system is a built-in trigger mechanism that slides forward on the rail and clasps directly to the precise center of the string every time the bow is drawn, allowing for straight-line nock travel and a perfectly balanced draw. 2 lb. clean trigger break.
Versa-Draw cocking system is an easy to use, fully integrated cocking mechanism that allows a minimal 10 pound cocking force.
Delivers unmatched down-range accuracy with every shot.
Arrives fully assembled/pre tuned.
100 Yard Illuminated Scope.
Anti-Dry Fire/Auto Safety.
Built-in Sling Mounts.
Many instruction videos available online.
Speed 390 FPS.
Draw Weight 10 lbs.
Axle to Axle 10.5" (uncocked).
Power Stroke 13".
Overall Length 34.5".
135 ft lbs Kinetic Energy
Five-Year Non-Transferable Limited Warranty.
---
---
PROS

crank for disabled folks . helps
CONS

pricy but worth it
pricy ,but worth it
#Ravin