Price Save 20% from $458.5 to $366.95
Pelican 0350 (350) 20 inch Deep Cube Case is extra deep so you can layer foam or padded dividers (it's like a split level condo for gear), or empty from your Pelican 0350 20" Cube Case for shipping & carrying out and drop in one big thing. Which is why it's got those gorilla-sized handles: a man on each side with a double hand hold each to heave those heavy loads.
Color: Black, Desert Tan, OD Green
Note: Wheels are not included and sold separately. For the optional wheels, please visit this page.
Available Pelican 0350 Cube Dry Boxes 20"x20"x20":
0350-000-110: Pelican Large Black Cube Case 0350 w/Lid and Foam
0350-000-130: Pelican Large OD Green Cube Case 0350 w/ Lid and Foam
0350-000-190: Pelican Large Desert Tan Cube Case 0350 w/ Lid and Foam
0350-001-110: Pelican Large Black Cube Case 0350NF w/ Lid - No Foam
0350-001-130: Pelican Large OD Green Cube Case 0350NF w/ Lid - No Foam
0350-001-190: Pelican Large Desert Tan Cube Case 0350NF w/ Lid - No Foam
0350-004-110: Pelican Large Cube Black Case 0354 with Padded Dividers
0350-004-190: Pelican Large Desert Tan Cube Case w/ Lid and Dividers
---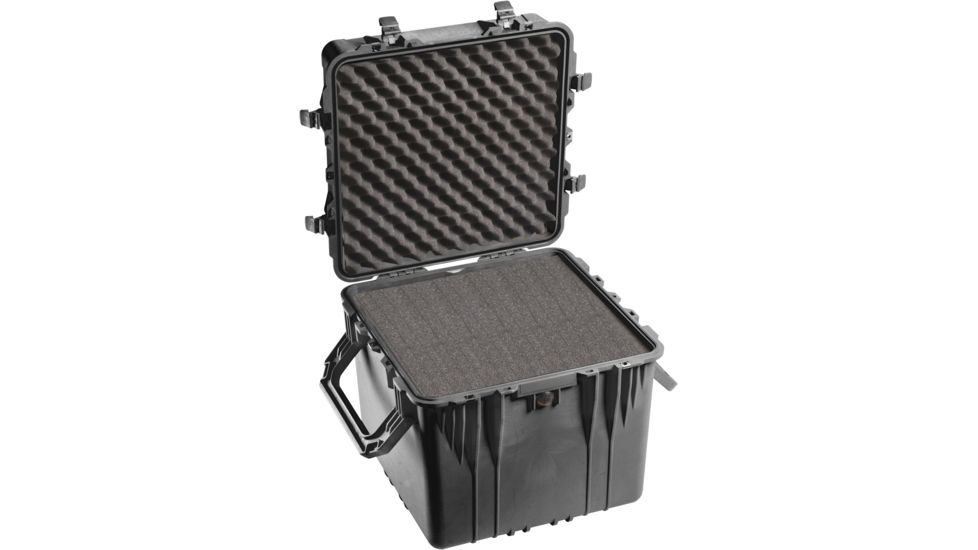 Pelican 0350 Protector Watertight Large 20" Cube Case
RATING
92.25 /100
Design

Excellent

Performance

Excellent

Value for money

Excellent

Feature

Excellent
Specifications for Pelican Protector Waterproof 20" Cube Cases 0350:
Exterior Dimensions (L x W x D): 
 22.50" x 22.43" x 21.25" (57.1 x 56.9 x 54 cm)
Interior Dimensions (L x W x D): 
 20.00" x 20.00" x 20.00" (50.8 x 50.8 x 50.8 cm)
Lid Depth: 
 5.00" (12.7 cm)
Bottom Depth: 
 15.00" (38.1 cm)
Total Depth: 
 20.00" (50.8 cm)
Weight w/Foam: 
 32.01 lbs. (14.52 kg)
Weight w/o Foam: 
 25.99lbs. (11.79 kg)
Buoyancy Max.: 
 268.96 lbs. (122 kg)
Range Temperature: 
 -10 / 210° F (-23 / 99° C)
No. of Wheels: 
 4 (Optional)
Pelican 0350 Cube Case Certificates: 
 • IP67 • STANAG 4280
Features of Watertight Pelican Cube Cases 20" x 20" x 20":
Interior Dimensions: 20.00" x 20.00" x 20.00" (50.8 x 50.8 x 50.8 cm)
Watertight, crushproof, and dust proof
Open cell core with solid wall design - strong, light weight
Automatic Purge Valve
O-ring seal
Large 2-person fold down handles
Stainless steel hardware
Easy open double throw latches
Metal reinforced padlock protectors
3 level Pick 'N' Pluck with convoluted lid foam
Optional caster wheels and pull strap
Unconditional Lifetime Guarantee of Excellence
---
---